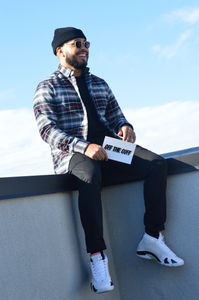 Cristian Palma, Founder
OFF THE CUFF, LLC was founded by Cristian Palma, inspired by Cristian's Abuelita.

At an early age, Cristian spent hours listening to the various stories by his grandmother inspiring him to seek more. She provided him with a home of curiosity and comfort. All of her stories had one common theme, a theme that has been instilled in him since the early years of his life. She told him, "siempre pagalo adelante," to always pay it forward. From that point on, his life changed forever. His Abuelita is his hero.

In 2016, Cristian was granted with an opportunity to be the commencement speaker of his graduating class of 10,000 at the University at Albany. He expressed his appreciation for his grandmother and the life lessons learned that helped guide him to be the man he is today.

Cristian's mission and purpose is greater than him. With his ability to build an authentic connection with others reminds him of the true power in storytelling and his grandmother's teachings. Cristian's life is dedicated in providing inspiration to others as his grandmother provided for him.

He continues to do this with OFF THE CUFF by exploring the pivotal moments of rising leaders to discover the hidden lessons and everyday inspirations to keep you going.

We hope to inspire, educate, and influence those around us in hopes that they too will honor his Abuelita's message of paying it forward.